click this
daylily
for a
larger
image

Power To the Purple - Terri Jones 2007


Diploid, 26" EM Ev Re 3" diameter
(Little Spell Caster X Trahlyta)

Here is a flower which shows many faces during its season. In the beginning you see the little purple flower shown on this page, smoky and cute. Then you notice that later in the day that purple fades to something more like pewter. On rebloom you will often see distinct bitone or bicolor effects. There are more photos, click the other thumbnails for full sized views. I am endlessly fascinated by this daylily! 2 branches, 22 buds.

Power To the Purple! Right On!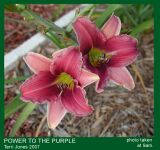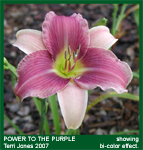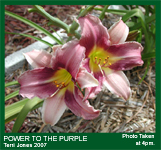 $50 single or double fan, depending on how it divides.

Orders may be emailed to me at terri@stonehill.org,
or you can mail a check or money order to:
Terri Jones, Magic Seeds Nursery
5902 W. Thonotosassa Rd.
Plant City FL 33565-5714,


And you can call me with questions at: (813) 982-9616. I am available most afternoons and evenings.

---
Magic Seeds Home
Infernal Optimist Phoenix Feathers Martian Walkabout Power To The Purple
Mommy Says Gravity Schmavity Holiday on Mars Ruby Variations
Android Dreams Being There Crash Course First Prime
Promising Seedlings